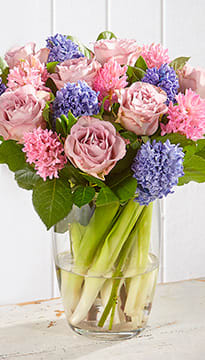 " A mother is the truest friend we have, when trials heavy and sudden fall upon us; when adversity takes the place of prosperity; when friends desert us; when trouble thickens around us, still will she cling to us, and endeavor by her kind precepts and counsels to dissipate the clouds of darkness, and cause peace to return to our hearts." Washington Irving
As Mother's day is almost upon us, Coleman Douglas Pearls thought that you might need a few new tricks up your sleeve to spoil "The Best Mum in the World"!
Start the day in Beauchamp
Place, London with a trip to the fantastic Christina's nail salon. Located at 50 Beauchamp Place, you can treat mum to a wonderful manicure, pedicure or both! And seeing as you will be accompanying her you may like to book yourself a little something whilst you're there – take a look at their full range of treatments here.

After you have both been pampered why not change things around this year and let your mother pick out her own special gift at Coleman Douglas Pearls. We are located just a few doors down at 42 Beauchamp Place and have a large selection of pearl jewellery for you to browse through.
In the week leading up to the big day we will also be offering a glass of champagne for all Mother's Day purchases!
After selecting your mothers gift (and maybe a little something for yourself, you deserve a treat too!) why not head over to The Capital Hotel for afternoon tea. This mother's day they have a St Piran's (the patron Saint of Cornwall) themed afternoon tea for you to enjoy. Have a really good catch up over their delicious selection of savouries and sweets. From egg and cress  and ham and mustard sandwiches to smoked salmon crumpets and Cornish pasties, Victoria sponge to blackberry bakewell tart, and lets not forget the all important scone! The menu looks delicious and the setting is impeccable – you can't go wrong!

Now that we have done all the planning for you, you can sit back and relax that everything is in hand. Or feel free to pop by and see our pearls before the big day!
We are open 11am-7pm Monday -Saturday and will be more than willing to help you find that special something, just look how happy our youngest client was when he purchased his Mother's Day gift!